Ship Specs
Imperial Ships
Imperial Fighters
New Republic Ships
New Republic Fighters
Transport Craft
Non-aligned Craft
Multimedia
Ship Pictures
Wallpaper
Manufacturers
Major Corporations
Designers/Manufacturers
Shipyards
Fleets/Squadrons
Notorious Fleets
Imperial Squadrons
New Republic Squadrons
Imperial Pilots
Rebel Pilots
Non-Aligned
Commercial Groups
Pirates/Smugglers
Ranks
Imperial Navy
New Republic Navy
Other
Historical Battles
Tactics
Complete Ship Listing
Further Study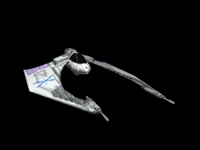 Imperial and New Republic craft are not the only military vehicles abounding throughout the galaxy. Many planets have their an independent space force, or a planet aligned with the New Republic might have its own navy for self-defense when the New Republic navy cannot be patrolling their sector. Though inferior to Imperial and New Republic craft, these ships and starfighters are still deadly.
Starships
Hapan Battle Dragon
Hapes Nova-class Cruiser
Starfighters
Miy'Til Fighter
HLAF-500
LAF-250
Mynock-class Assault Boat