Eclipse-class Super Star Destroyer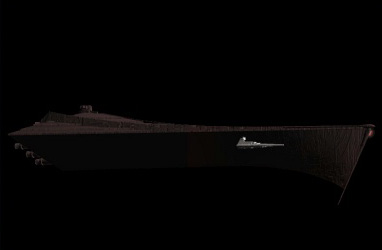 Name/Model#
Eclipse-class Super Star Destroyer
Designer/Manufacturer
Kuat Drive Yards
Combat Designation
Capital Starship
Length
17500 meters
Weapons
550 Laser Cannons
500 Turbolaser Batteries
75 Ion Cannons
100 Tractor Beam Projectors
10 Gravity-well Projectors
1 Axial Superlaser


Designed alongside the Executor-class, but much more massive and powerful, there were only two Eclipse-class Star Destroyers ever produced, the Eclipse and Eclipse II. Both served the Emperor during his reincarnation, and both were destroyed with the Emperor. No more have been constructed.
The first Eclipse-class Star Destroyer, the Eclipse was used as the flagship for the reborn Emperor Palpatine. It was destroyed when the Force storm Palpatine sent to destroy Luke Skywalker turned on Palaptine himself. The storm consumed Palpatine and eradicated the Eclipse.
The Eclipse II was built by the second reincarnation of Emperor Palpatine, following the loss of his first ship, the Eclipse. Palpatine took the Eclipse II to Onderon, in an attempt to obtain the body of Anakin Solo for clones. A New Republic assault team, led by Chewbacca and Kam Solusar, infiltrated the ship and reprogrammed its navigation systems. They fled the ship as it jumped into hyperspace, bound for Byss. When it emerged from hyperspace, the Eclipse II crashed into the new Galaxy Gun, which began to fires its projectiles in its death throes. One projectile was launched successfully, and it ploughed into the planet Byss, destroying it and all of the Imperial ships in orbit around it, including the Eclipse II. The New Republic assault team barely escaped.