Hoersh-Kessel Drive, Inc.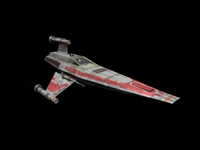 A corporation of long ago, Hoersh-Kessel is an older corporation, having changed its goals and purpose several times. During its most successful period, it sold high-quality transports and other craft; most recently, it has been producing relatively unoriginal fighters and cargo carriers.
Two Hoersh-Kessel starfighters, the R-41 and T-Wing, are in use by many pirate and mercenary groups, and have even been employed by the New Republic. But their shields and weapons systems are too weak to compete on the same level as the more common starfighters used in the galaxy.
R-41 Starchaser
T-Wing